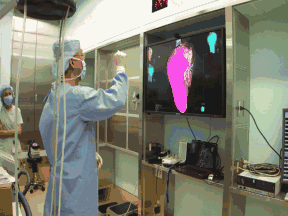 In recent years, the digitalization of surgical operations have advanced and there are occasions for a surgeon to directly access digital data (PACS、DICOM、3D model image) saved on the computer.
By running aeroTAP on the computer of the surgery room or the computer that the surgeon brings inside that room, touchless operation of data becomes possible during surgery.
aeroTAP will make the medical application you already use (DICOM, PACS) touchless.
- Enables using the existing application such as PACS >> Enables low cost implementation
- Easy installation and operation >> Provides high mobility
- Reduces the stress of the surgeon/operator >> Reduces unnecessary communication because the surgeon directly operates
- Safe and hygienic because it is touchless >> Ensure safeness in the surgery room
- Easy operation for everyone >> Independent from ICT literacy
- No need of taking off surgical gloves >> Cutting costs and efficient use of resources
- Enables reduction of surgical operation time >> Reduces the burden/load of patient